AR Workforce Management App Scenarios

Project Overview
Company: Trimble Navigation  |  Duration: 2 months  |  Project Type: Individual


To illustrate a day in the life of a supervisor of a team of technicians, who uses Trimble's augmented reality team management solution of the future. This was to be presented as a paper at the Trimble Technology Conference 2015 held in Avon, Colorado, USA. This presentation won the Customer Insight Award at the event and also lead to collaboration with a team in Trimble, Georgia, to work on apps for the Microsoft Hololens platform.
The Problem




Augmented reality was an emerging technology that my company wanted to invest in.

 However, having never dabbled in it before, there was a need to visualize what a currently successful product would look like in AR in order to make the decision as to whether or not to invest time and resources for it.



The Solution




A task-force management mobile app was visualized in AR through pencil sketches.

 These were presented to executives at the Trimble Technology Conference 2015 and the company has since invested in the development of augmented reality apps.
My Role
Augmented Reality Interaction Designer
Tools:
Adobe Photoshop, Adobe InDesign, Paper and Pencil
My Process
Conceptualization  |  Visualization  |  Sketching  |  Digital Enhancement  |  Conference Presentation


The process was kicked off by first visualizing a set of gestures that would be used throughout my illustrated story based presentation. A separate page has been dedicated to these gestures on my website that can be viewed here. The illustrations were then based on a story of my vision of how a Trimble product would look like when used on the Augmented Reality platform. All the frames of the story were drawn by hand, scanned and cleaned up in Photoshop. The holographic elements were rendered green in order to make them stand out. I then created a 20-minute narrative for the story which was what I presented alongside my illustrations at the Trimble Technology Conference 2015.
Stop-Motion Animation Video 
of the
Illustrated Story
All holographic elements have been rendered green.
Supervisor Martin takes his seat at his desk and asks to be shown his tasks for the day. Holographic task cards lay themselves down on his desk. He selects a task and swipes it towards the blank wall in front of him. It expands and gets projected on the wall.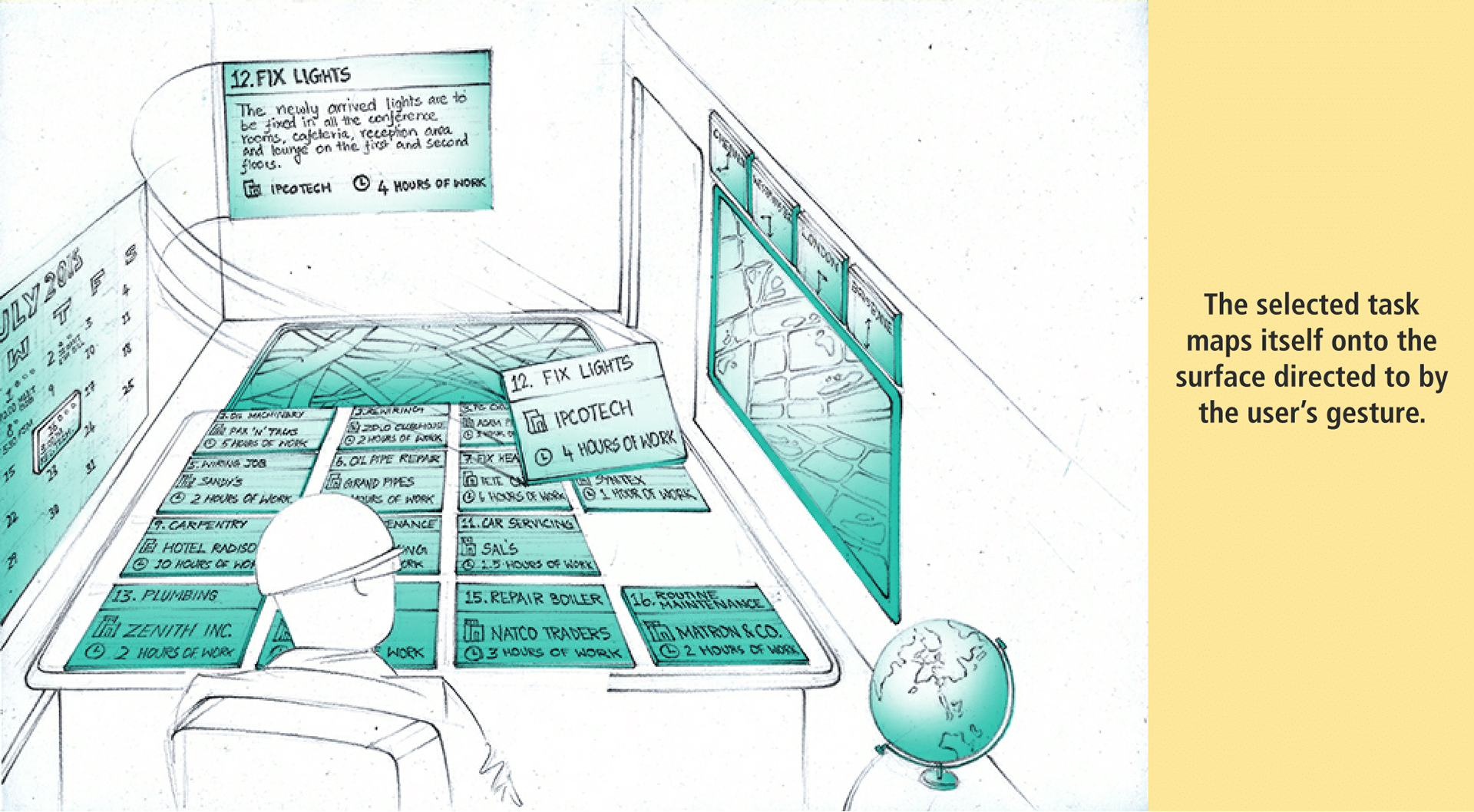 3D avatars of the technicians who are available to take up the task appear out of a virtual door on the wall, annotated with key information such as name, the time they would take to reach the task location and the duration of their availability.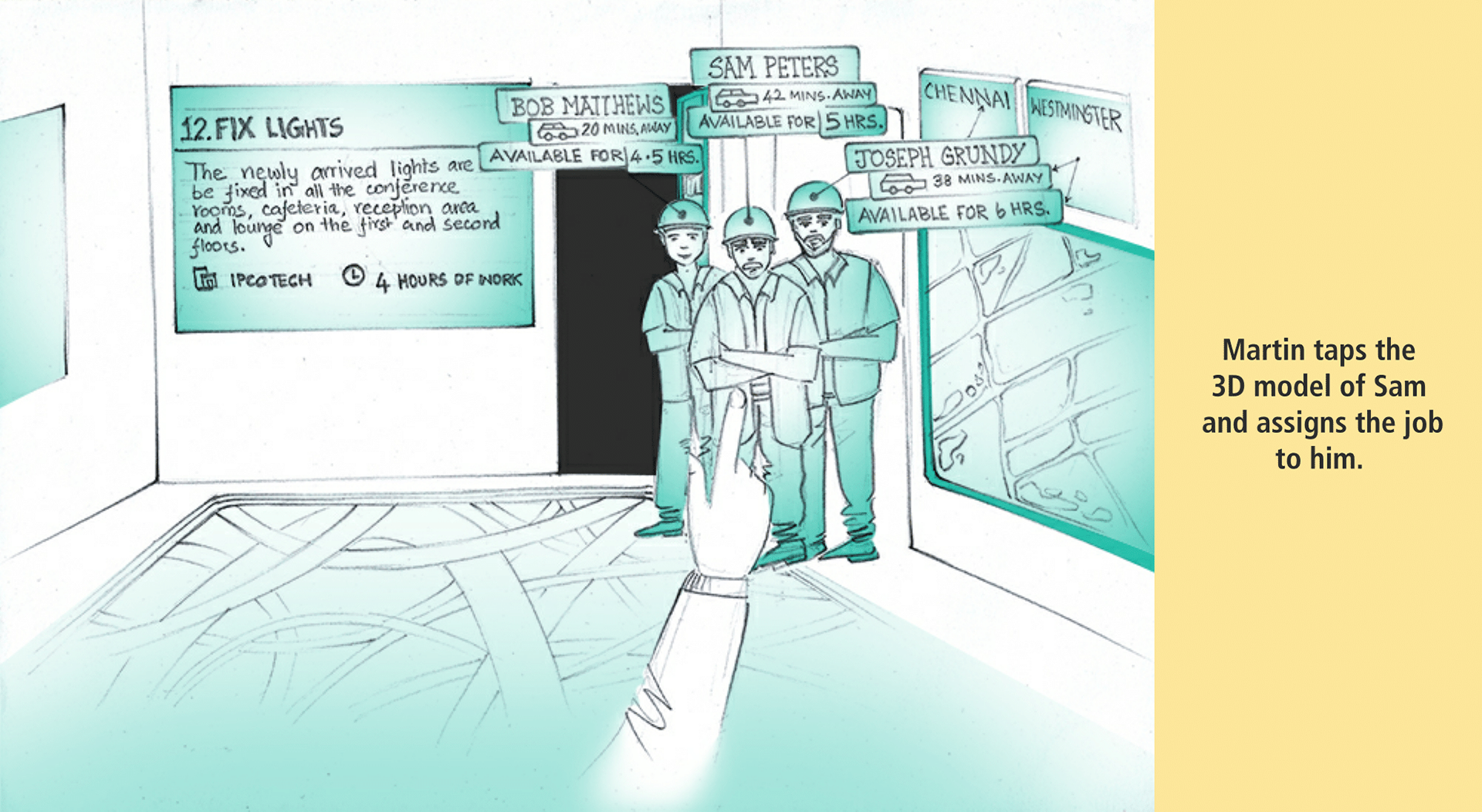 Sam, a technician on his way to a task location unfortunately got a flat in his truck. He uses his hands to frame the scene and captures an image that he then shares with the holographic avatar of a nearby technician  in order to convince him to come and help him since he forgot his toolbox in the garage!
Back in Martin's office, his assistant Sarah introduces three new technicians who had joined the team. Martin's AR headgear makes note of the faces and saves the names and occupations with them.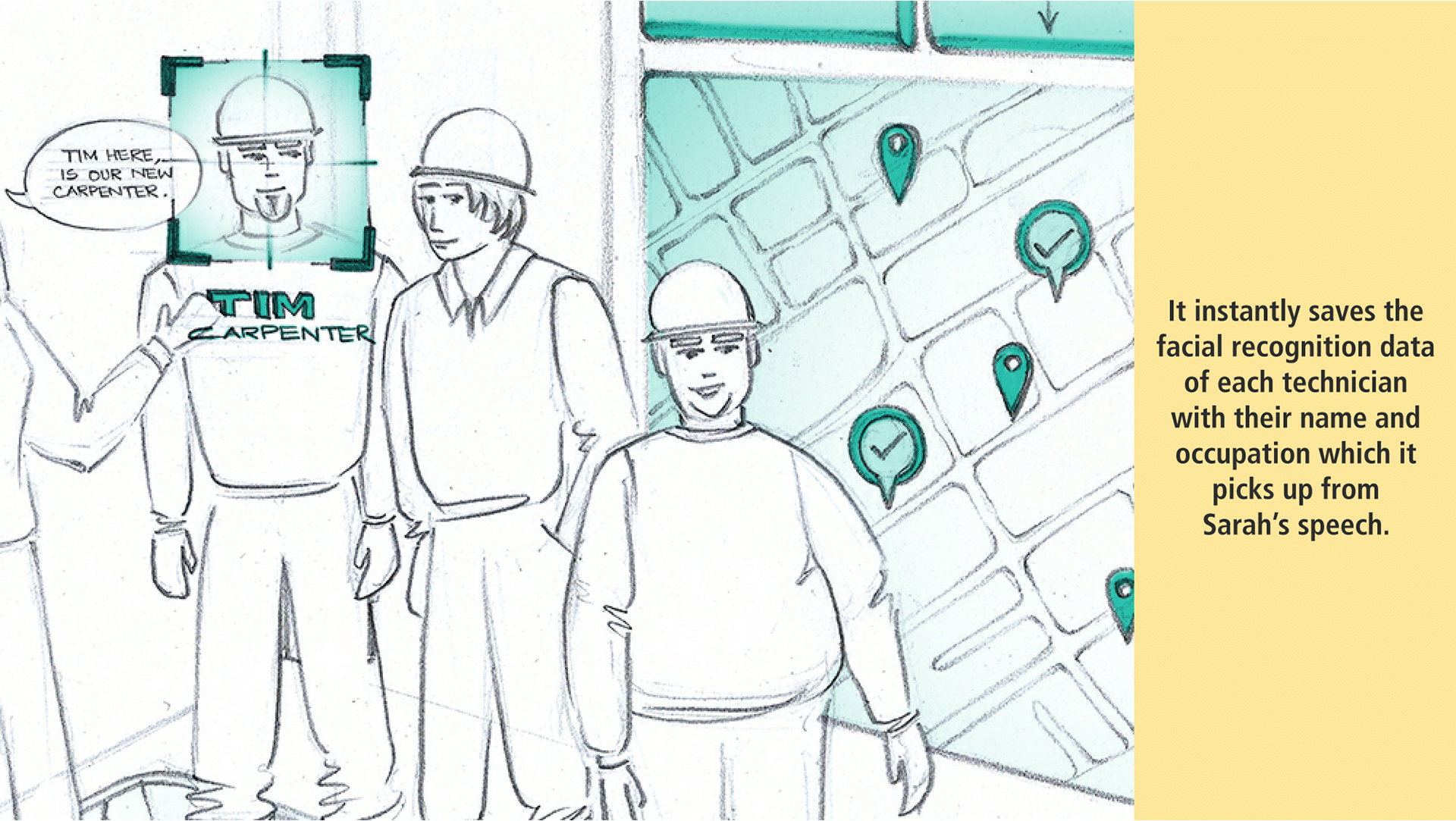 Floor manager Ryan uses a holographic tablet to choose lights and wall decorations to be purchased for the office. Once he sets their virtual locations, the technician who comes to install them, simply needs to match each product with its holographic counterpart in the room to install it in the correct location without the need for someone else to instruct him.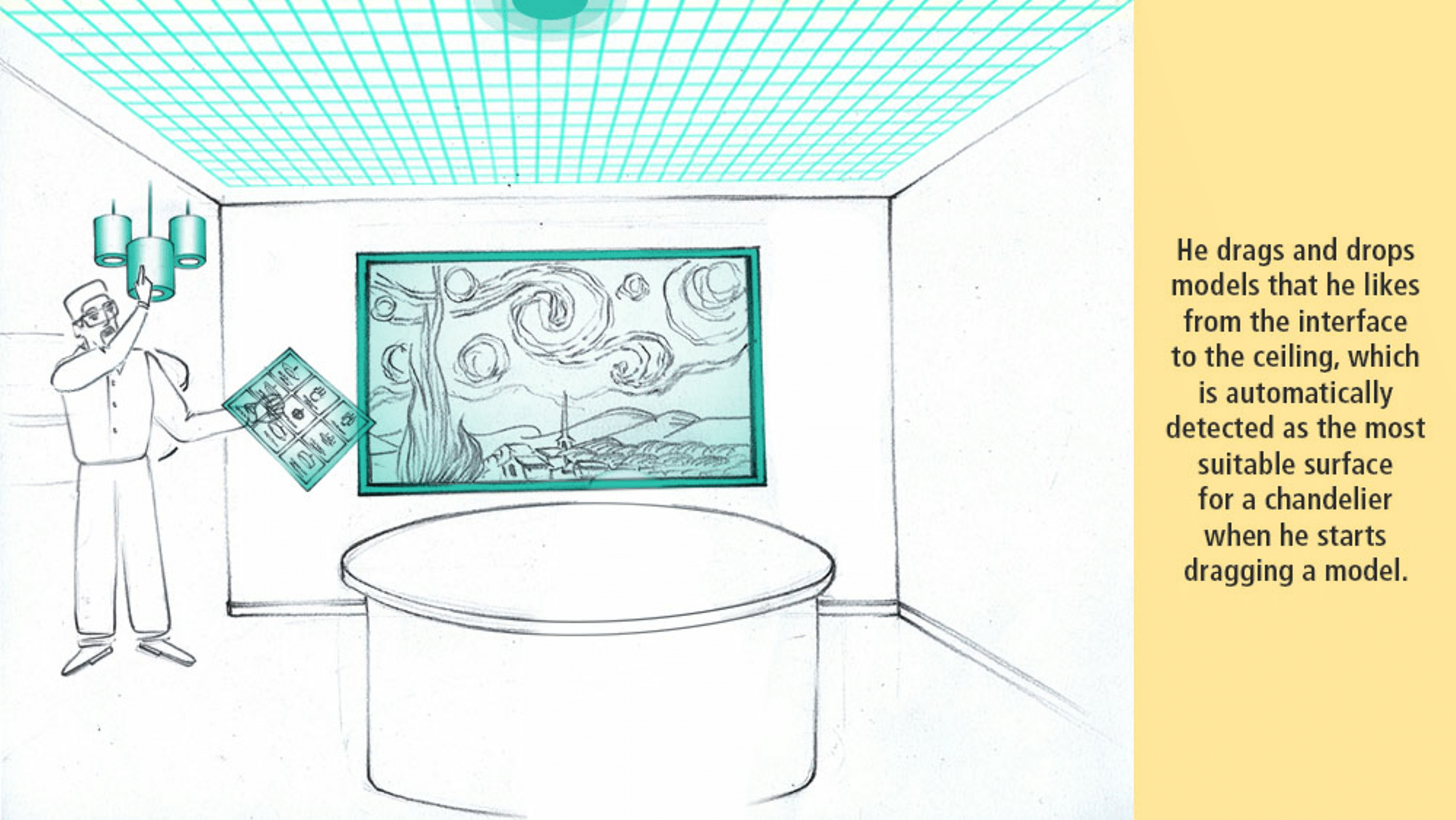 A week later, Ryan is expecting a technician from Martin's team to come to his office to install the light fittings. He holographically teleports himself to Martin's office and asks him how long it would take the technician to get to his location.

Martin uses his hands to frame the map of the ongoing tasks on his wall and asks to find Ryan's company's job.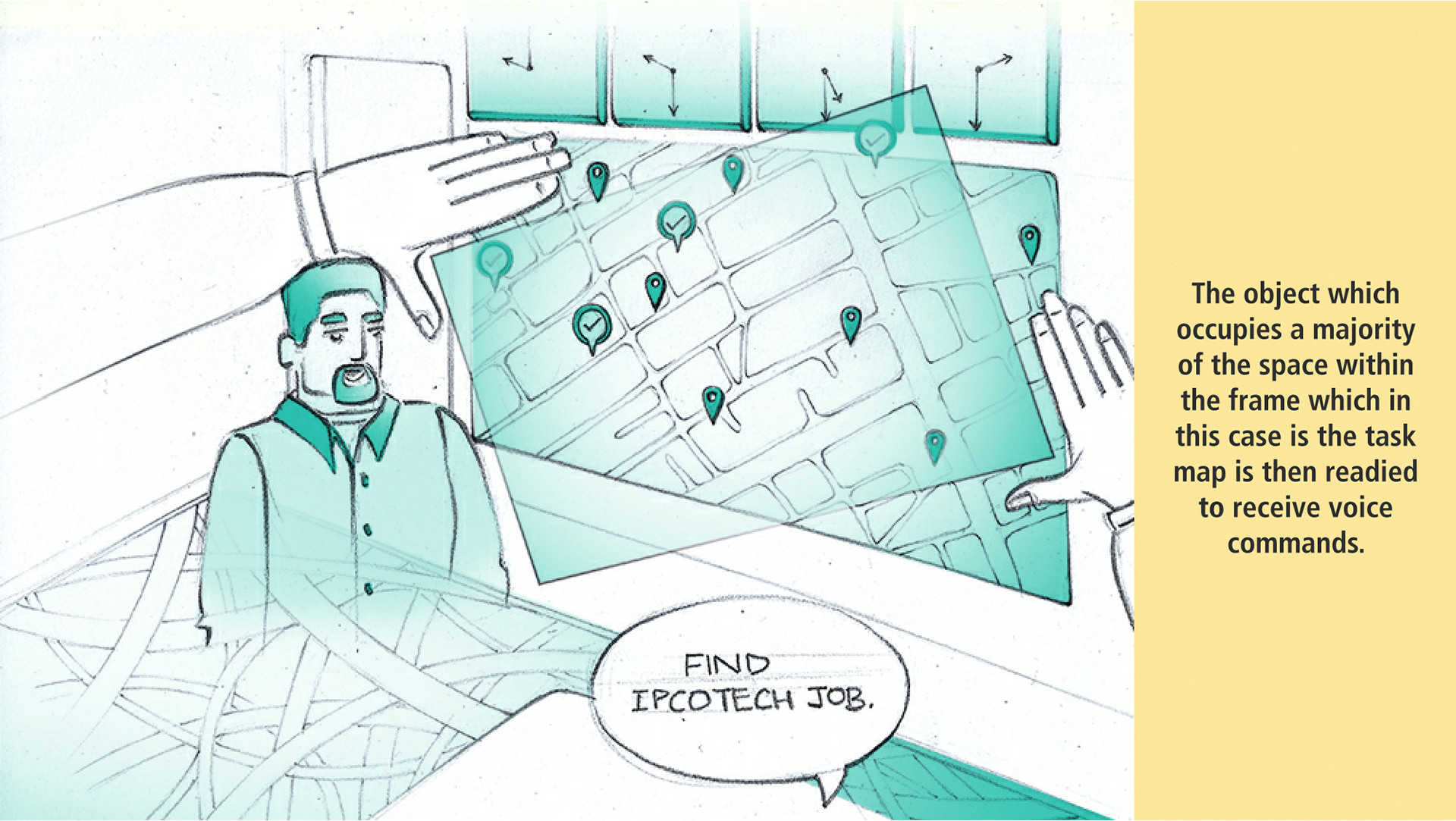 The holographic map knows that the command is being addressed to it since Martin had framed it with his hands before speaking. It responds by showing the location of the assigned technician with respect to the task location.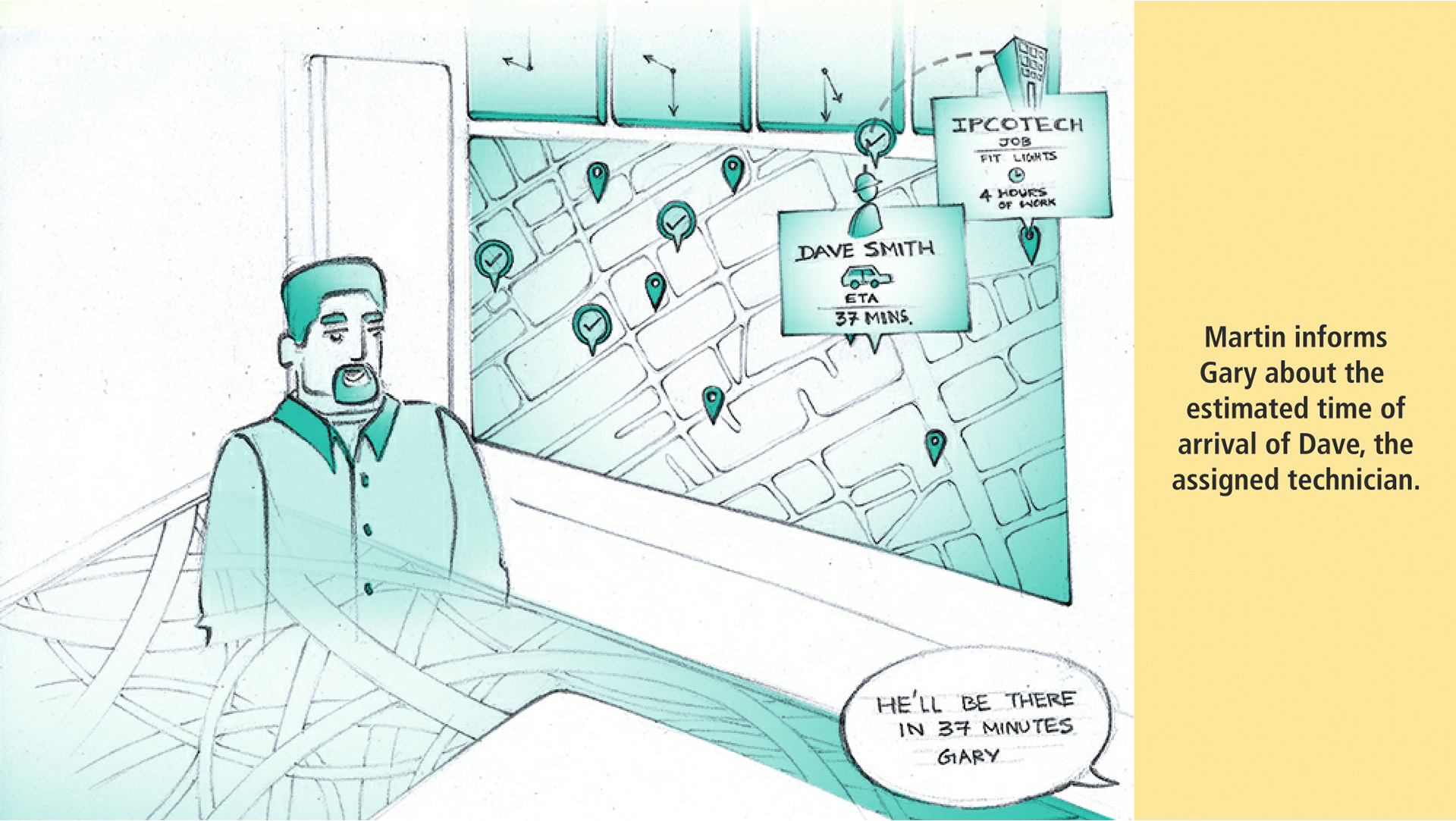 Conclusion
This project sharpened my ability to think out-of-the-box and design for a never before seen and experienced piece of technology. The conference that it gave me access to, opened doors to working with international teams in Trimble that consisted of talented engineers, 3D artists and fellow interaction designers. The learning experience that resulted, inspired me to expand my perception of Human-Computer Interaction and study it through a graduate program at Carnegie Mellon University, Pittsburgh, USA.